Massacre in Shinjuku

Chapter Information
Chapter
124
Page length
15 pages
Release date
December 18, 2003 (tankōbon format)
Arc
Dinosaur Alien Mission Arc
Chapter Guide
Massacre in Shinjuku (新宿大虐殺, Shinjuku Daigyakusatsu) is the 124th chapter of the Gantz manga, written and illustrated by Hiroya Oku.
Cover Page
Edit
This is the first cover of the series which is a continuation of the story and is, therefore, a panelled cover. The first shows Shion Izumi in his disguise as a black American continuing his massacre while the Intrigued Guy is crying in front of them the next panels show a close-up of the both of them, a close-up of his crying face and him looking down on the first victim.
Shion Izumi, disguised as a black man, is seen killed multiple people on a street in Shinjuku, while the intrigued man follows from the front, wailing and crying as he does so. As soon as he reaches a stair terminal, however, casualties mount to unprecedented proportions, as he shoots down dozens of people at once after pulling out an Uzi submachine gun and fires non-stop. Shion tells the Intrigued Man to stop crying, otherwise, he will shoot him, and does so with a sigh after the man fails to do so. Shion then continues on his massacre, killed dozens more people as he rampages through Shinjuku.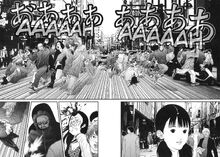 Kei Kurono is then seen on a train heading to Shinjuku, wearing his Gantz suit beneath his clothes, and attempts to call Tae Kojima who is in Shinjuku. Kurono fails to contact her, however, and becomes increasingly stressed as other passengers begin to talk about the massacre that is currently happening.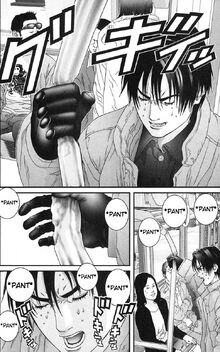 Kurono crushes a train pole as his tension rises, and he wonders as to whether Shion will target Tae in order to provoke him.
Tae is then seen standing on a street in Shinjuku, as a mob of people stampedes towards her, trying to escape from a still disguised Shion. He continues to shoot down many people as they run towards her, at which point the chapter ends.
Characters in Order of Appearance
Edit
Community content is available under
CC-BY-SA
unless otherwise noted.