Pedestrian Paradise

Chapter Information
Chapter
125
Page length
17 pages
Release date
December 18, 2003 (tankōbon format)
Arc
Dinosaur Alien Mission Arc
Chapter Guide
Pedestrian Paradise (歩行者天国, Hokōsha Tengoku) is the 125th chapter of the Gantz manga, written and illustrated by Hiroya Oku.
Cover Page
Edit
Kei Kurono and Tae Kojima on a date in their school uniforms, with both of them seen wearing their school bags on their shoulders.
The chapter begins with Tae Kojima running away from Shion Izumi, disguised as a black man, as he shoots dozens of people running away from him with an Uzi sub-machine gun. As she runs away she is pushed to her knees by a random passerby and experiences a flashback to her old classmates, who were killed by the Shorty Alien some time ago, before thinking of Kei Kurono and the times they have spent together.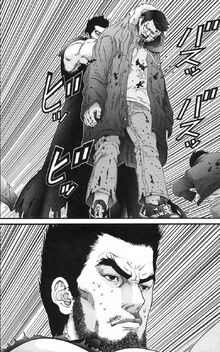 Kurono is then seen on a train going into Shinjuku, which has stopped due to the shooting committed by Shion. Kurono becomes increasingly stressed by thing, grimacing as he crushes a pole he is holding onto, which shocks a woman sitting close to him.
Back to Tae at Shinjuku, she is seemingly about to shut down like she did during her classes massacre before she sees a baby carriage alone in the panicked street. Rushing over, she sees an unknown baby who's mother has presumably been killed, and Tae picks it up before running away from Shion once again. Her bag is hit by a bullet, however, causing her to stumble and fall onto her knees once again. She seemingly loses hope, staying still and hugging the baby close before Daizaemon Kaze strides onto the scene, walking determinedly towards Shion while using a dead man's body as a meat shield, at which point the chapter ends.
Characters in Order of Appearance
Edit
Community content is available under
CC-BY-SA
unless otherwise noted.