Bare Hands

Chapter Information
Chapter
126
Page length
17 pages
Release date
December 18, 2003 (tankōbon format)
Arc
Dinosaur Alien Mission Arc
Chapter Guide
Bare Hands (徒手空拳, Toshu Kūken) is the 126th chapter of the Gantz manga, written and illustrated by Hiroya Oku.
Cover Page
Edit
A sweaty unknown woman is seen facing away from the viewer, wearing an altered soft Gantz suit which acts like a thong. Her bare buttocks are almost completely exposed, with her back arched in order to accentuate them, and her suit has a large hole, revealing a side view of her bare left breast. Her arms are spread wide, with her hands out of view, and she is seen looking towards the viewer over her left shoulder.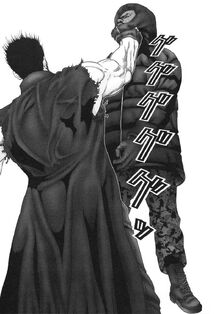 Tae Kojima is seen holding an unknown baby behind Daizaemon Kaze, who is striding towards a disguised Shion Izumi, using a dead man as a meat shield to block the incoming bullets. Tae uses the opportunity to run away and Kaze continues forwards until he is directly in front of Shion. He throws the dead man towards him and Shion side steps, but Kaze is able to use his special throwing technique to send Shion flying several feet backwards into a pile of rubbish, his Uzi flying away from him. Kaze rushes towards him and punches Shion in the face after he pulls another out of his bag, but before he can strike again, Shion shoots him three times in the abdomen. Kaze grabs him by the throat regardless and begins choking him as blood spills from his wound, at which point the chapter ends.
Characters in Order of Appearance
Edit
Community content is available under
CC-BY-SA
unless otherwise noted.