The Man

Chapter Information
Chapter
127
Page length
17 pages
Release date
December 18, 2003 (tankōbon format)
Arc
Dinosaur Alien Mission Arc
Chapter Guide
The Man (漢, Otoko) is the 127th chapter of the Gantz manga, written and illustrated by Hiroya Oku.
Cover Page
Edit
A lying down Daizaemon Kaze wearing his regular street martial arts clothes looking content smiling while an unknown dog licks his face.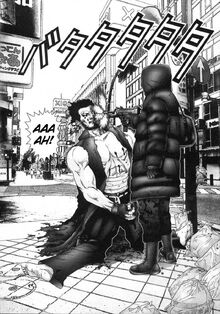 The chapter begins with Daizaemon Kaze choking a disguised Shion Izumi with one hand.
Tae Kojima who is close by stops running away when people around her note that the shooter has stopped moving towards them, and Tae thinks that it may be to do with Kaze who was walking towards him earlier.
Meanwhile, Kaze continues to choke Shion with one hand while people around him cheer him on. The cheering turns to horror, however, when Shion uses his machine gun to shoot Kaze several times in the legs, nearly dismembering them from his body and he collapses onto the ground. Shion then shoots him several times in the face before continuing on his rampage, Tae running away along with a large mob of people while holding the baby, as Shion continues on his murder spree. The chapter ends with Tonkotsu telling Hiroto Sakurai and Kenzo Sakata to go on without her, as she cannot run anymore.
Characters in Order of Appearance
Edit
Community content is available under
CC-BY-SA
unless otherwise noted.