Atonement

Chapter Information
Chapter
128
Page length
16 pages
Release date
December 18, 2003 (tankōbon format)
Arc
Dinosaur Alien Mission Arc
Chapter Guide
Atonement (贖い, Aganai) is the 128th chapter of the Gantz manga, written and illustrated by Hiroya Oku.
Cover Page
Edit
An unknown woman is seen lying seductively on the ground while looking directly towards the viewer, wearing a nothing but a pair of Gantz suit gloves and a long ribbon which wraps around her body, covering her nipples and tied in a bow near her left shoulder. She has a distinct mole near her chin, and she is seen holding an X-Pistol in her left hand. Everything below her thighs is out of frame.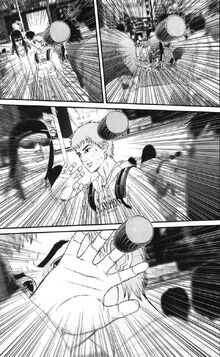 The chapter begins with a mob of people running away from Shion Izumi disguised as a black man, while Hiroto Sakurai and Kenzo Sakata surround Tonkotsu who says that she cannot move anymore. Hiroto asks Kenzo if he has ever tried dodging bullets, and suggests that they try to stop the gunman. He tells Tonkotsu that he would like to speak with her more if they ever see each other again, and Hiroto walks towards Shion while Kenzo follows. Kenzo tries to convince Hiroto to just leave and not try to fight him, telling him that he is overestimating his powers and that he will just get himself killed, but Hiroto states that they have both killed before and that people that have killed may deserve to die, saying that it will be worth it if they can just stop the gunman. Kenzo once
again tells him that he has never tried to stop a bullet, at which point one comes flying towards Hiroto's head. Kenzo manages to catch it before it hits him, at which point the chapter ends.
Characters in Order of Appearance
Edit
Community content is available under
CC-BY-SA
unless otherwise noted.