High Noon
Chapter Information
Chapter
133
Page length
16 pages
Release date
March 19, 2004 (tankōbon format)
Arc
Dinosaur Alien Mission Arc
Chapter Guide
High Noon (ハイヌーン, Hai Nūn) is the 133th chapter of the Gantz manga, written and illustrated by Hiroya Oku.
Cover Page
Edit
An unknown woman is seen in a partially complete Gantz suit that has been modified in order to be extremely revealing. There is nothing covering her from the hips down, other than an X-Gun holster on her thigh with an X-Pistol in it, and the suit has been unzipped completely, exposing her large breasts, stomach and pubic area. She has long fair hair and has her arms behind her head while her back is arched, accentuating her large breasts and making them more prominent. She has a distinguishable mole near her chin and is looking directly towards the viewer.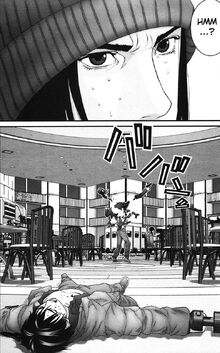 The chapter begins with abstract people discussing the Shinjuku Massacre committed by Shion Izumi before he and Kei Kurono are seen facing off against each other in the Government Building. Shion confirms that Kurono has removed his suit and has his X-Pistol with him while pointing his gun at Tae Kojima, who is unconscious next to him, before he challenges Kurono to a duel, akin to the ones seen in western movies. Shion states that if Kurono loses, he will kill Tae, and soon begins counting down from ten as they hover their hands above the weapons. At the count of one, they both draw, but Shion is able to fire at Kurono before the latter can, shooting him through his chest once before he coughs up blood. Shion briefly celebrates his victory before expressing disappointment at having to kill himself in order to reach the Gantz room, and he brings his gun up to Tae's head before reloading. Unbeknownst to him, however, Kurono had pulled the top trigger while they were aiming at each other in order to lock on to him, and before Shion is able to kill Tae, Kurono fires his weapon while sprawled on the ground, blowing Shion into pieces, at which point the chapter ends.
Characters in Order of Appearance
Edit
Community content is available under
CC-BY-SA
unless otherwise noted.