Sword
Chapter Information
Chapter
139
Page length
18 pages
Release date
March 19, 2004 (tankōbon format)
Arc
Dinosaur Alien Mission Arc
Chapter Guide
Sword (剣, Ken) is the 139th chapter of the Gantz manga, written and illustrated by Hiroya Oku.
Cover Page
Edit
A frontal shot of Reika Shimohira is seen, Reika wearing nothing but a pair of Gantz Suit gloves and X-Gun holsters on both thighs, the right one containing an X-Pistol. She is holding a Gantz Sword in both hands, raising it in front of her and pointing it directly towards the viewer as she looks towards them, also.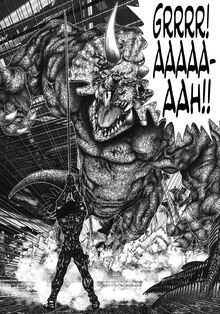 The chapter begins with Shion Izumi facing off against an extremely muscular Triceratops alien which is now standing on two feet. The alien begins speaking nonsense before charging at Shion, who is wielding a Gantz Sword. Shion manages to avoid all of the aliens attacks while countering with his blade, but is only able to inflict minor, shallow wounds. Eventually, however, the alien manages to kick Shion in the chest and begins stomping on him repeatedly, though he is undamaged for the most part due to his Gantz suit. Despite the dire situation he is in, Shion thinks to himself that he finally feels alive, in a way that cannot be achieved by simply playing sports, before he manages to escape from under the alien's foot. In response, the alien becomes even more muscular before roaring, and Shion brings his sword upwards before extending it to extreme proportions, his Gantz suit visibly contorting as he prepares to attack. The alien then jumps at him while roaring, at which point, the chapter ends.
Characters in Order of Appearance
Edit
Community content is available under
CC-BY-SA
unless otherwise noted.