Split in Half

Chapter Information
Chapter
140
Page length
17 pages
Release date
March 19, 2004 (tankōbon format)
Arc
Dinosaur Alien Mission Arc
Chapter Guide
Split in Half (両断, Ryōdan) is the 140th chapter of the Gantz manga, written and illustrated by Hiroya Oku.
Cover Page
Edit
Reika Shimohira is seen wearing school girl clothing with a school bag slung over her shoulder and holding an X-gun behind her back, her shirt especially tight fitting on her.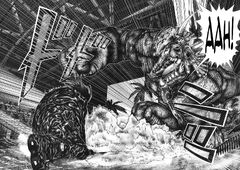 The chapter begins with Shion Izumi fighting one of the Triceratops Aliens, raising his extended Gantz Sword over his head while it charges towards him. Before it can reach him, Shion slashes the extremely long sword downwards using the full power of the Gantz Suit, splitting the alien in half while Hoi Hoi plays in the background.
Yoshikazu Suzuki is then seen crushing a rock using his Gantz suit, still surprised by its power, and Kurono tells him to come along, presumably because there are more aliens for them to find.
Reika Shimohira has a conversation with Kouki Inaba while Izumi Tatsumi spots something and runs panicked towards it and near the museum, while Kurono and Yoshikazu discover a prone Brachiosaurus Alien. The thing that Tatsumi was chasing turns out to be their designated target, which she discovers after fly kicking it in the back. The two get into a fist fight that ends with Tatsumi pinning it down, but it suddenly opens its slit like eyes and bears its pointed teeth while making strange noises, which summons four velociraptor aliens that surround and attack her.
The chapter ends with Kurono pointing his weapon at the Brachiosaurus and Yoshikazu telling him not to kill it, as it is a grass eater.
Characters in Order of Appearance
Edit
Community content is available under
CC-BY-SA
unless otherwise noted.