Roar

Chapter Information
Chapter
144
Page length
15 pages
Release date
May 19, 2004 (tankōbon format)
Arc
Dinosaur Alien Mission Arc
Chapter Guide
Roar (咆哮, Hōkō) is the 144th chapter of the Gantz manga, written and illustrated by Hiroya Oku.
Cover Page
Edit
A side view of Reika Shimohira from her chest upwards is seen, with her holding her left arm to her chest while she smiles towards the viewer.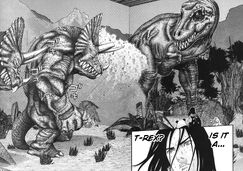 The chapter begins with Kei Kurono running away from the headless Brachiosaurus Alien before turning around and using his X-Gun's scanning capabilities to find a weak spot in the alien's body. Kurono does so successfully and shoots at an internal organ within the alien, finally killing it, before he thanks Yoshikazu Suzuki for his help.
Shion Izumi is then seen while Hoi Hoi follows, Shion confused as to why the panda keeps following him. Shion stops and turns to face him, at which point the pada jumps on his and the two begins playfully rolling around with each other, Shion laughing while doing so. The two are interrupted when two Triceratops Aliens appear. A roar then manifests, which is so loud that Kurono, who is in another part of the museum, believes it to be an earthquake. A T-rex Alien then emerges to face off against the two Triceratops, at which point the chapter ends.
Characters in Order of Appearance
Edit
Community content is available under
CC-BY-SA
unless otherwise noted.