Falling Off

Chapter Information
Chapter
148
Page length
16 pages
Release date
May 19, 2004 (tankōbon format)
Arc
Dinosaur Alien Mission Arc
Chapter Guide
Falling Off (落車, Rakusha) is the 148th chapter of the Gantz manga, written and illustrated by Hiroya Oku.
Cover Page
Edit
A close up of Kei Kurono's face and neck is seen. He is wearing the same clothes as in the current mission, as is slightly sweaty.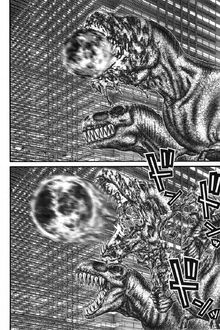 The chapter begins with Yoshikazu Suzuki driving with Kei Kurono through a crowded street with the T-rex Aliens in pursuit, several people being killed as the T-rexes shoot fireballs in an attempt to hit Kurono and Yoshikazu. The latter tells Kurono that they can't involve innocent people, and expressed shock when Kurono says that it can't be helped, telling him that he is going to drive to a place with fewer people.
The aliens continue to follow them and Kurono tells Yoshikazu that he can't shoot with it shaking around so much. He begins to drive straight in order to alleviate this, and Kurono manages to shoot and kill one of the T-rex Aliens while it is shooting a fireball, but not before it is able to send it flying towards them. Kurono manages to shoot the fireball in half before it can hit them but is thrown off the bike in the process, landing in front of the museum where the rest of the surviving players are. The T-rex appears in front of him and Kurono has flashbacks to Yoshikazu telling him that he can sense his urge to survive, as well as the time that he survived the Tanaka Alien Mission without his suit. Tae Kojima is briefly seen waking up in the Government Building and the chapter ends with Kenzo Sakata and the Americans telling Kurono to run away.
Characters in Order of Appearance
Edit
Community content is available under
CC-BY-SA
unless otherwise noted.