Simultaneous Kills

Chapter Information
Chapter
151
Page length
16 pages
Release date
May 19, 2004 (tankōbon format)
Arc
Dinosaur Alien Mission Arc
Chapter Guide
Simultaneous Kills (同時多殺, Dōji Tasatsu) is the 151th chapter of the Gantz manga, written and illustrated by Hiroya Oku.
Cover Page
Edit
A close up of Kei Kurono's torso is seen, Kurono wearing a T-Shirt under a thick coat while holding an X-Shotgun over his head with both hands.
The chapter begins with the group of players outside of the museum being surrounded by Raptor Aliens, one of them grabbing Takashi Otani before his father, Masaru, rushes out to save him. Before they can be surrounded and killed, Hiroto Sakurai and Kenzo Sakata come to their rescue, using their powers to kill a number of aliens while protecting them. Daizaemon Kaze, meanwhile, surrounds himself with a large number of aliens before taking on each one with his bare hands, avoiding their attacks while tossing them about.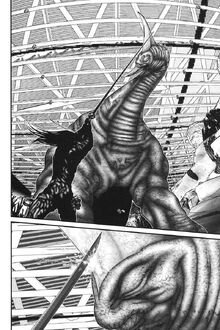 Kei Kurono wonders to himself how he can be their leader, thinking of Masaru Kato and what he would do in the situation, before deciding upon saving the weak ones first. Kurono tells Hiroto and Kenzo to protect the family, which they agree to, after which Kurono shouts that anyone that can't fight should stay behind him. Reika Shimohira states that she can fight, but Kurono grabs her arm and sees that her Gantz Suit has malfunctioned, telling her to give the gun to a man instead. Kouki Inaba takes the gun from her, stating that he will protect her before Kurono tells them how to use them. Kuorno tells Yoshikazu Suzuki to cover him while he locks on to the aliens one by one.
Meanwhile, Shion Izumi is seen with Hoi Hoi inside of the museum while facing off against the Dinosaur Boss Alien, raising his sword above his head while it extends to an extreme length, almost as tall as the alien itself. Kurono tells the others to lock on while Shion charges at the boss, and the chapter ends with all of the aliens outside being killed all at once, while Shion's attack is deflected by the Boss Alien.
Characters in Order of Appearance
Edit
Community content is available under
CC-BY-SA
unless otherwise noted.