Unavoidable

Chapter Information
Chapter
152
Page length
17 pages
Release date
May 19, 2004 (tankōbon format)
Arc
Dinosaur Alien Mission Arc
Chapter Guide
Unavoidable (回避不可能, Kaihi Fukanō) is the 152th chapter of the Gantz manga, written and illustrated by Hiroya Oku.
Cover Page
Edit
A full body shot of Reika Shimohira is seen, holding a panda (possbly Hoi Hoi) to her chest while standing on one foot, her nipples and genitalia obscured, and wearing a pair of Gantz Suit Boots while doing so.
The chapter begins with the survivors outside of the museum congratulating Kei Kurono about killing all of the remaining Raptor Aliens. The Kappa Alien soon reappears, however, much taller and more muscular but with an absurd pot-belly and protruding belly button. Sean Lewis attempts to punch the alien in the stomach but his fist breaks from the impact, and the alien goes on to beat up the rest of the Americans also.
Meanwhile, inside the museum, Shion Izumi is fighting the Dinosaur Boss Alien, the alien swinging its neck around extremely quickly before bringing its knife like head down in an attack. Shion manages to block it but thinks that he can't even see the dinosaur's movements and that if it attacks again he will not survive.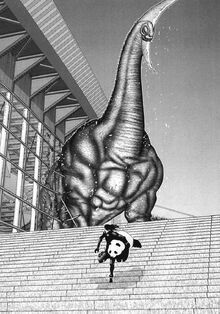 Outside of the museum, Kurono is about to kill the Kappa Alien before Daizaemon Kaze steps in and tells Kurono to let him handle it. Before the two can fight, however, the Dinosaur Boss Alien bursts out of the museum, Shion holding Hoi Hoi under his arm as he runs away from it, and the chapter ends with the survivors outside looking on in disbelief.
Characters in Order of Appearance
Edit
Community content is available under
CC-BY-SA
unless otherwise noted.