Hundred Eyes

Chapter Information
Chapter
157
Page length
16 pages
Release date
July 16, 2004 (tankōbon format)
Arc
Dinosaur Alien Mission Arc
Chapter Guide
Hundred Eyes (百眼, Hyaku Me) is the 157th chapter of the Gantz manga, written and illustrated by Hiroya Oku.
Cover Page
Edit
This cover is part of the actual chapter it shows in the top panel a defeated Shion Izumi lying flat on the pavement, while Yoshikazu Suzuki stands in front of him, looking on at the destruction that the Dinosaur Boss Alien is causing is causing. The next two panels are close-ups of the both of them. The last panel shows Kei Kurono underneath the alien's stomach and pointing his X-Gun upwards.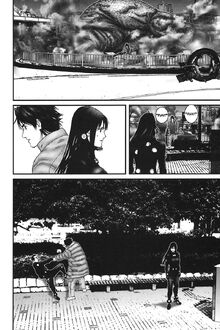 The chapter begins with Kei Kurono standing beneath the Dinosaur Boss Alien, pointing his X-Gun upwards in an attempt to shoot the weakness that the other Brachiosaurus Alien had and thinking of Tae Kojima while doing so. Suddenly, however, the alien begins to form dozens of eyes on the bottom of its stomach, shocking Kurono before moving forwards again. Kurono runs away before falling over, but before he can be trampled by the alien, Yoshikazu Suzuki grabs the alien by its tail and prevents it from moving forwards. Kurono stands up and fires his X-Gun at the aliens weak spot, but not before the alien can send Yoshikazu flying backwards and swing its neck wildly in its usual attack pattern.
Reika Shimohira appears and stares in shock at Kurono and the alien, covering her mouth with her hands, before the alien falls on its side, dead. The chapter ends with Kurono walking straight past Reika without even acknowledging her and helping Yoshikazu onto his feet.
Characters in Order of Appearance
Edit
Community content is available under
CC-BY-SA
unless otherwise noted.