Black Clothing

Chapter Information
Chapter
158
Page length
16 pages
Release date
July 16, 2004 (tankōbon format)
Arc
Dinosaur Alien Mission Arc
Chapter Guide
Black Clothing (黒服, Kuro Fuku) is the 158th chapter of the Gantz manga, written and illustrated by Hiroya Oku.
Cover Page
Edit
A full view of the four Vampire Bosses is seen, all of them facing away from the viewer while wearing black suits, the exception being the one furthest left, who appears to be wearing a trenchcoat.
The chapter begins with Yoshikazu Suzuki congratulating Kei Kurono on his victory over the Dinosaur Boss Alien, causing Kurono to raise his hand in an attempt to high five him, though Yoshikazu is confused by the gesture and simply holds his hand near Kurono's head while smiling. Reika Shimohira, who is also present, compliments Kurono also, while stammering and blushing, seemingly infatuated with him. Yoshikazu points out Shion Izumi who is standing in front of them, regarding Kurono coldly before turning and walking away. Kurono is praised further when the three of them meet up with the rest of the survivors near the museum.
The chapter then briefly shows the Vampire Bosses who are in the same area as the Gantz Players, the four of them discussing several different fighting combatants and styles, including Sumo Wrestling, Heavyweight Boxing and Jeet Kune Do.
The players begin to transfer back, starting with Hiroto Sakurai, and by the time the Vampires close in on the group,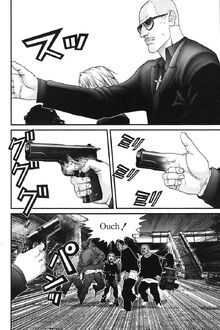 Hiroto, Kenzo Sakata, Hoi Hoi, Reika, Daizaemon Kaze and Kouki Inaba have already been transferred to the Gantz Room. Kurono spots the Vampires behind the others just as he is being transferred also, and the chapter ends with the sunglasses wearing Vampire Boss forming a pistol from his hand and shooting Bob Morris through the chest.
Characters in Order of Appearance
Edit
Community content is available under
CC-BY-SA
unless otherwise noted.