Changing Clothes (生着替え, Namakigae) is the 190th chapter of the Gantz manga, written and illustrated by Hiroya Oku.
Cover Page
Reika Shimohira is seen from her mid thighs upwards, changing alone in the Tokyo Gantz room and halfway through taking off some form of top. Other than this, she is wearing nothing but a pair of panties and bra.
Synopsis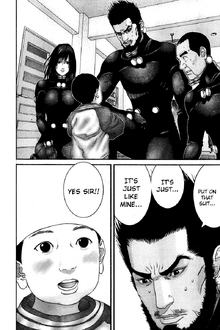 The chapter begins with Joji Tomioka and Naoichi Mikawa considering the idea of gang-raping Reika Shimohira, the latter changing in the next room, which Shion Izumi overhears and scolds them for before Reika enters the room with her Gantz suit now on.
Daizaemon Kaze is then seen changing into his Gantz suit while Takeshi Koumoto watches in admiration, calling him "Muscle Rider", a character from his imagination. Daizaemon tells him to go away with some hesitance, however, causing Takeshi to leave disheartened.
Kei Kurono convinces the new players to put on their Gantz suits while Gantz reveals the target of their current mission, the Oni Alien before the transfer begins and one of the new players is sent into the game area.
Reika and Yoshikazu Suzuki attempt to get Takeshi to put his suit on, but the latter doesn't even acknowledge them. Daizaemon comes over, however, and tells him to put the suit on in order to be more like him, which agrees to with excitement, referring to Daizaemon as "sir". Takeshi is transferred before he can put his suit on, causing Reika to state that she will bring his suit with her, and the chapter ends with Daizaemon wearing a worried expression on his face.
Characters in Order of Appearance