Common Knowledge

Chapter Information
Chapter
191
Page length
17 pages
Release date
July 19, 2005 (tankōbon format)
Arc
Oni Alien Mission Arc
Chapter Guide
Common Knowledge (周知, Shūchi) is the 191st chapter of the Gantz manga, written and illustrated by Hiroya Oku.
Cover Page
Edit
Reika Shimohira is seen sitting in front of Gantz completely nude, other than a pair of Gantz Suit gloves and boots, her hands over her genitalia and her hair covering her nipples while she holds an X-Pistol. A case which previously contained Gantz equipment is open beside her, along with an X-Rifle and pistol, also.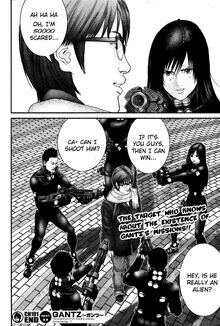 The chapter begins with the Gantz Players in Ikebukuro, the new players attempting to go to a train station to return home before Kei Kurono tells them otherwise and explains some aspects of the game, such as the time limit and the game area before telling everyone that they should split up due to the large number of aliens present. Kurono assigns the new players to Reika Shimohira who accepts without question, giving Takeshi Koumoto's suit to Daizaemon Kaze and telling him to put the suit on Takeshi.
Reika leads her group to a shopping mall where one of the Oni Aliens is located, determining who the alien is by surrounding the only person that can actually see them. The alien feigns ignorance before trying to escape, and the chapter ends with it being surrounded by Reika's group once more while the alien taunts them.
Characters in Order of Appearance
Edit
Community content is available under
CC-BY-SA
unless otherwise noted.