Non-fixed Form

Chapter Information
Chapter
199
Page length
18 pages
Release date
July 19, 2005 (tankōbon format)
Arc
Oni Alien Mission Arc
Chapter Guide
Non-fixed Form (不定形, Futeikei) is the 199th chapter of the Gantz manga, written and illustrated by Hiroya Oku.
Cover Page
Edit
Reika Shimohira is seen from just above her elbows upwards, wearing a pyjama top while resting her head in her right hand while her left is licked by a small puppy whom she is looking directly at.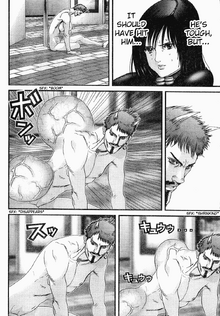 Reika Shimohira confronts the Shapeshifting Oni Alien Leader while it is disguised as her and is having sex with Kouki Inaba, who is both incredibly embarrassed and confused at the situation. He quickly becomes horrified once the alien shapeshifts into a multi-breasted monster with a man's head, holding Kouki close as it runs circles around Reika, who is unable to shoot at it due to Kouki's presence. The alien then pounces on her, fingering at her Gantz suit in order to look for its weak point near her neck, while Reika covertly wraps her arms around Kouki. She then kicks the alien high into the air using the strength of her Gantz suit, freeing Kouki in the process due to the grip she had on him. It is then revealed that she shot the alien twice while doing so, but its body simply inflates in two areas before shrinking back down again, at which point the alien runs away.
Reika chases it through the train station before she encounters who appears to be Kei Kurono, at which point the chapter ends.
Characters in Order of Appearance
Edit
Community content is available under
CC-BY-SA
unless otherwise noted.