Gulp (ゴックン, Gokkun) is the 200th chapter of the Gantz manga, written and illustrated by Hiroya Oku.
Cover Page
From left to right, Reika Shimohira, Daizaemon Kaze, Yoshikazu Suzuki, Kei Kurono, Shion Izumi, Hiroto Sakurai and Kenzo Sakata are seen, all seen from the waist upwards in their full Gantz Suits.
Synopsis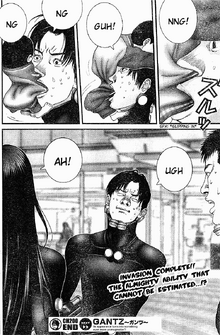 Reika Shimohira is speaking to what appears to be Kei Kurono, asking what happened to Yoshikazu Suzuki with Kurono stating that they got split up and that he does not know. Once they reach the others, Kurono states that they should split up to search for more survivors, stating that he will go with Reika, but Kouki Inaba suggests that it may not be the real Kurono, and is instead the alien in disguise. Reika orders them all to surround Kurono before she fires at his gun, causing it to explode in a bloody fashion and revealing the fake Kurono to be the Shapeshifting Oni Alien Leader. They all proceed to fire simultaneously at Reika's command, ineffectively at first due to the alien's ability to inflate parts of its body before the continued assault causes it to explode in several places. It then shapeshifts into the form of Takeshi Koumoto, and the chapter ends with the alien entering Masafumi Shirokuma's body through his nostrils and mouth.
Characters in Order of Appearance