Murder Vomit

Chapter Information
Chapter
201
Page length
16 pages
Release date
July 19, 2005 (tankōbon format)
Arc
Oni Alien Mission Arc
Chapter Guide
Murder Vomit (殺人嘔吐, Satsujin Ōto) is the 201st chapter of the Gantz manga, written and illustrated by Hiroya Oku.
Cover Page
Edit
A side profile of Kei Kurono and Reika Shimohira is seen, Reika following Kurono while they both wear full Gantz Suits. Kurono is holding an X-Rifle and Gantz sword while Reika wields an X-Pistol in her right hand.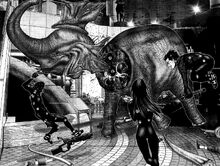 The chapter begins directly after the Shapeshifting Oni Alien Leader has entered Manabu Yamaguchi's body through his mouth, the latter suffocating while Masafumi Shirokuma, Kouki Inaba and Reika Shimohira watch, unsure of what to do. It initially seems as though he has suffocated to death, but he stands back up and states that he is fine. Kouki asks for Reika's permission to shoot him but she instead tells Manabu to vomit, instead, in an attempt to remove the alien from his body. He is about to do so before the alien bursts from his back in the form of a giant fly, killing him instantly. They attempt to shoot the alien out of the sky but are unable to before it enters Masafumi through his ear, bursting out of his stomach afterwards in the form of an elephant, this time. Kouki shoots it with little effect as it charges Reika, and she wonders what Kei Kurono would do in moments such as this, and he appears on a railing above them with Yoshikazu Suzuki at his side. Kurono then jumps down and decapitates the alien with a single swing of his Gantz Sword, killing it as its head returns to its original form, at which point the chapter ends.
Characters in Order of Appearance
Edit
Community content is available under
CC-BY-SA
unless otherwise noted.