About Gantz
Gantz is a Japanese manga series written and illustrated by Hiroya Oku. Gantz tells the story of a teenager named Kei Kurono, among others, who die but find themselves brought back in perfectly healthy bodies and forced to participate in a "game" where they must hunt down and kill aliens. Those who die on missions are quickly replaced by others in following missions. The series is known for its graphic violence, sex, action and similar mature themes. It has sold at least 19 million copies so far.
MAIN CHARACTERS
ABOUT
Welcome to the Gantz Wiki
Welcome to the Gantz Wiki the encyclopedia for the anime, manga and everything else Gantz related. Under fandom rules we are required to have a list of rules. They are as follows: spammers, trolls, vandals, and people that edit war and argue get blocked forever.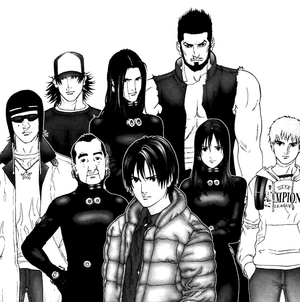 Welcome to Gantz Wiki!


We are currently housing 926 articles, and 1,905 files. Feel free to contribute however you wish.
---
Featured Article
Sei Sakuraoka

Sei Sakuraoka is proficient in martial arts and bears a striking resemblance to Lara Croft of the Tomb Raider series. She arrives for the mission at the Buddhist Temple.

Soon after her first appearance, she has sex with Kurono Kei. This does not appear to be for any particular reason (aside from the fact that he asked and she stated that he was cute).
Affiliated Sites

Want to affiliate with the Gantz Wiki? Contact us.