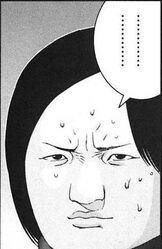 Haruko Otani (大谷 治子, Ōtani Haruko) is one of the hunters chosen by Gantz who participates in the Dinosaur Alien Mission along with her husband and kid.
Appearance
Personality
Background
Plot
Etymology
The name Haruko means "cure" (治) (haru) and "child" (子) (ko).
Haruko's surname Otani means "big, great" (大) (o) and "valley" (谷) (tani).
Gallery