Characters
Edit
Names are in Western order, with the given name before the surname (family name).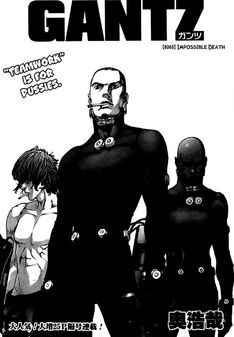 Character
Description
Kazuo Kuwabara

A veteran member of the Osaka team who has cleared the game three times before the Nuri mission. Described by Anzu as a serious pervert who rapes even aliens. One of the few Osaka team members who survives the battle against Nuri, although he loses both hands and feet when he tries to rape Nuri after the alien turned into a large mass of naked women.
Kyo Hanaki

A Osaka team member who has earned 100 points twice prior to the Nuri mission. He often fights by riding the Gantz bike and likes to shoot up during the missions. Gets killed by one of Nuri's eye beams after he shot it with the X-Shotgun.

Oka Hachirou was the champion of the Osaka team, who had earned 100 points 7 times previously, and is the only hunter shown thus far in the series with an advanced Gantz suit, a flying vehicle, and a robot. It is unknown how Nuri killed him.
Yamasaki Anzu

One of the few members of the Osaka team who is not psychotic, (this is debatable as she does basically force Kato to promise her to move in with her after knowing him for hardly an hour.) A 23 year old young woman who lives alone with her son in an apartment. During the Nuri mission she meets Masaru Kato and fights by his side, moved by his behavior of helping others, which she at first finds ridiculous. She eventually dies by protecting Kato from one of Nuri's energy beams, although a fellow member of the team vows to revive her.
Shimaki (George)
He got 100 point in Gantz 3 times. Anzu describes him as the lowest one in the bunch (compared to Kob and Kuwabara).
Nobuo Muroya (Knob)
"Knob" has cleared 4 times. He acts like he is the leader in the osaka team. Fights like a maniac.
Sampei Taira
One of the "The Sadist trio".
Tetsuo Hara
One of the "The Sadist trio".
Susumu Kimura
One of the "The Sadist trio".
Miho Yamanaka
Knob's girlfriend.
Sumiko Yamada
Community content is available under
CC-BY-SA
unless otherwise noted.